Guard designer floorlamp
Inspired by sentry's at a castle gate, this design was created by playing with simple lines and the contrast of light and shade.  Interiors are given new life with the presence of this guardian type figure as his playfulness silently envelops you with feelings of relaxation and a calm state of mind.  This design is 70cms tall so is more versatile and can be placed in smaller spaces and on top of furniture.
Like other Moodoo lamps, the Guard has a shade made of specially treated non-flammable paper and the final shape is achieved by cutting, bending and folding the paper. This model stands on metal legs complemented by wooden beads.
Safety first
We had the paper made to order in the Czech Neograph paper mill. It is specially designed so that it does not start burning even in contact with a direct flame, so you can be sure that even the slightest light bulb will not ignite it. The outer side of the shade is further treated with a thin layer of laminate to leave dust on the lamp and possibly wipe it with a damp cloth. At the same time, laminate protects the paper from aging and yellowing. So the color of the shade will remain in the beautiful natural ivory as designed.
Unprecedented design brought to perfection
The design of the Guard lamp was created by playing with basic geometric shapes. It is inspired by the character, and that it resembles a game figure, only confirms its playfulness and purity of spirit. It breathes a friendly and pleasant atmosphere into the interior and enlivens it with its unique appearance. In addition, with its mood and play of light, it evokes a feeling of relaxation and a calm state of mind.
The shade is a design piece in itself. However, when you turn on the lamp, it decorates your floor and ceiling with a play of light and shadow under ambient lighting.
Small series Czech production
The paper of the shade is cut by machine, but then comes careful handwork. Every single piece goes through the hands of Dana or Marek, who bend the lamp and fold it. Although you will receive lmpa duoms in a flat package, if it was not pre-opened and correctly folded, you would only get cut paper in your hands, which would not fold into the final shape itself.
And we are not Ikea, we will be happy to prepare everything we can so that you do not have more work to do after unpacking the lamp. After opening the box, it will not take you ten minutes to assemble the lamp. You can see how to assemble our lamps in the video below. The lamp is a different type, but the principle is exactly the same: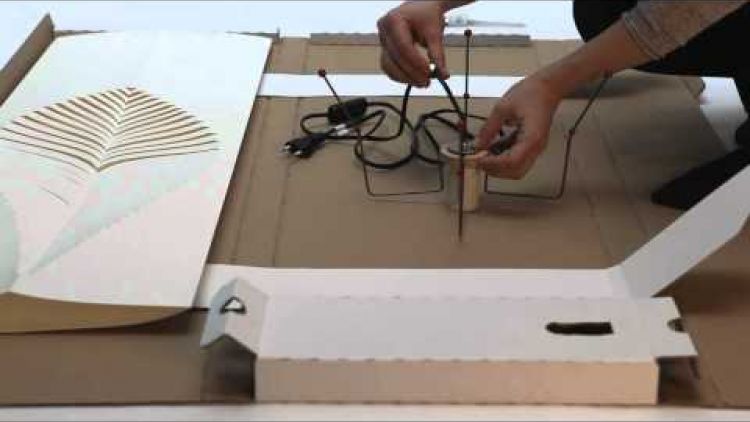 About the designer
Tomáš Paul is a Czech designer who has been guided in his work by subconscious and automatic stimuli. He has created countless original paper lamps, only a fraction of his models are produced in small series and the Guard one of them.
Unfortunately, Tomáš has not been with us for a few years now, but we appreciate his legacy all the more, of which Moodoo lamps are an integral part.